Saturday, September 17, is officially Batman Day.  Stop by the library for Batman fun, and don't forget we have all sorts of media — books, DVDs, and comics — featuring the Dark Knight.
Kids' Stuff: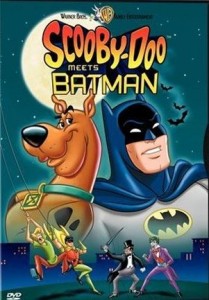 Scooby-Doo Meets Batman
Poison Ivy's deadly garden
Five riddles for Robin
Batman Joker's wild!
Batman, the animated Fire and Ice
Teens' Stuff:
Batman Serialized Comic
Batman Li'l Gotham. Volume 1 & 2
Superman, Batman: Public Enemies
Justice League
New Suicide Squad
Injustice: Gods Among Us
Batman '66
Batman Detective Comics
Last night, a superhero saved my life : Neil Gaiman, Jodi Picoult, Brad Meltzer, and an all-star roster on the caped crusaders that changed their lives
Batman Begins
The Dark Knight
The Dark Knight Rises
Batman v. Superman: Dawn of Justice
The Killing Joke
Gotham: The Complete First Season
And more!