Reviewed by Anuragini Arora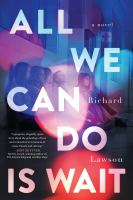 All We Can Do Is Wait by Richard Lawson follows the lives of five teenagers through flashbacks and memories after the Tobin Bridge collapses. They meet in the waiting room of the Boston General Hospital while waiting for news of their loved ones.
Jason and Alexa are waiting for news of their parents. Both wish that the beautiful summer of their past before everything went wrong, when their family was happy and they were all spending time with Kyle (their friend in Cape Cod), would come back. Skyler is waiting for news of her sister Kate, to whom she owes everything. Morgan is waiting for news of her father, who raised her in the most difficult circumstances. And Scott is waiting for news of his girlfriend Aimee, who is worth more than everything to him.
All We Can Do Is Wait deals with relationships, grief, and dreams and forces you to think about what you would do if you had to cope with a tragedy. Each character has dealt with his or her own sadness and unique traumas, but what is common is their desire to make everything right again.
When I started reading All We Can Do Is Wait, I thought it was slow and uneventful. But I realized that in a moment like that, when everything we have is in jeopardy, all we can do is wait (and maybe hope a little). Richard Lawson's first novel is emotional, intriguing, thought-provoking, sincere, and utterly real.