Artist Mika Holtzinger selected to design "The Imagine Gateway"
After a statewide call for artists, the Andover Public Library Board of Trustees found the artist they were looking for in their own backyard.  Mika Holtzinger of Andover has been selected to design "The Imagine Gateway" at the entrance of the library.
Holtzinger was selected from three artist teams who had been invited to take their initial ideas to a detailed proposal and make a public presentation. Holtzinger's winning concept features an evocative metal sculpture celebrating the Library and Central Park  (where the Library is located) on the front side of the entrance. On the back side a large fantasy mural will be visible to visitors leaving the library or sitting on the front patio.  Designer Palms of Andover will be partnering with Holtzinger to create the metal sculpture.  Work will commence in March.
"We were impressed with Mika's passion for Andover and her vision to create a work of art that will be iconic for Andover and the Library," says Board President Martha Farrell.
Mika Holtzinger is a graduate of Wichita State University and has a Master's degree from the University of Oregon. She also studied drawing and sculpture at the International School of Painting in Umbria, Italy. Holtzinger has since exhibited at venues nationwide and also teaches art classes, illustrates books, and collaborates with wildlife organizations like the Honey Bee Conservancy in New York City. She is an instructor in Art Appreciation at Butler Community College.
The initial entrance to the library was covered with a cascade of blue ceramic tiles.  Unfortunately, the tiles started peeling off.  The rest were removed to ensure safety. What remains is a blank canvas for an inspiring gateway to the library and the community.
Other projects by Mika Holtzinger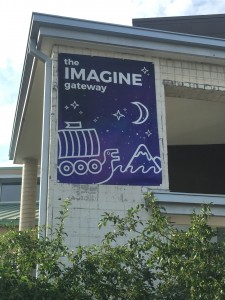 Save
Save
Save
Save
Save
Save
Save
Save
Save
Save
Save
Save