Name: Laura Ryan
Position at the library: Circulation Librarian
1. How long have you been at APL? 1. 2 months
2. What's your favorite thing about APL? My favorite part has to be the wonderful staff and friendly patrons. Also, there is nothing like helping someone discover their new favorite book!
3. What is your favorite book and why? My favorite book is To Kill a Mockingbird by Harper Lee. I read this novel at a very pivotal moment in my life, and it taught me so much about how I should treat the people around me.  Also Atticus Finch…. need I say more!
4. Do you have any other book or author recommendations? I highly recommend anything by J.K Rowling (she's a magical writer), John Green, Rainbow Rowell, Toni Morrison, Ned Vizzini and Ernest Cline….Just to name a few
5. Do you have any hobbies? (Besides reading?) In my spare time I enjoy snuggling with my English Bulldog, Lola. I also enjoy refinishing furniture and traveling.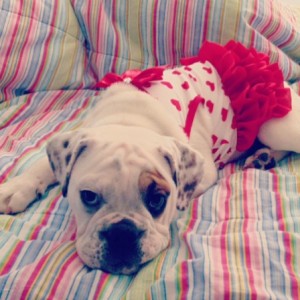 6. If you weren't a librarian, what would you be? I would be a Public Health Researcher.
7. What's your favorite food? Mashed potatoes…I would eat them every day if I could!
8. What is the funniest experience you've ever had at the library? It would probably be the time we had a dog get into the library and take 2 full laps with an employee chasing after it.
9. What does your dream library look like? A warm inviting space that allows people to find little nooks and crannies that inspire them. There is nothing better than a warm cup of tea, the right book, and a comfortable space to fire up your imagination. I would also add fireplaces with bookshelves that would magical choose your next favorite book.
10. Talk about other stuff you like (movies, TV, music, games, etc.) I am an avid TV watcher, if you suggest a show for me to watch I will more than likely binge watch it. Some of the shows that I am currently into include Sherlock, Teen Wolf, American Horror Story and of course Doctor Who.