Looking for a great way to contribute to your community, share your skills and talents, impress colleges and future employers, and/or get service credit for graduation? Andover Public Library wants to help you help us! We are looking for teens* to help in a variety of ways.
Writing New Young Adult book reviews
Shelving books/Shelf straightening
Special Events
Assist with children's program set up, crafts, and more
To apply, email Kendra Ellison or call the library at (316) 558-3500.
APL Teen volunteers may apply for the Friends of the Library Scholarship. The application and requirements may be found here.
*We consider teens to be young adults ages 13-18. Must have parental permission.
We do not take applications for court-ordered community service.
Save
Save
Save
Save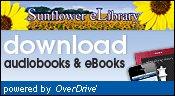 APL Digital Downloads
Check out digital audiobooks, ebooks, video, and music using your Andover Library card. Browse and search hundreds of great titles and download them to your computer, transfer them to a portable device, or burn onto a CD for your reading and listening pleasure anywhere, anytime.
Learn More