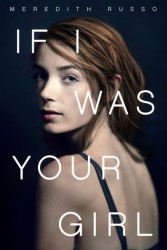 If I Was Your Girl by Meredith Russo Review
When I opened my copy of If I Was Your Girl I saw a long list of awards, recognitions, and reviews of praise. Now that I have finished the book, I can understand why. This novel is groundbreaking, painfully real, and makes a meaningful argument for representation. 
Amanda is an eighteen-year-old high school senior who has been through a lot in her short life. The story switches timelines from when Amanda was young to the present day so that the reader can begin to understand the journey she has been on. Amanda was born a boy but has known for the majority of her life that she wanted to be a girl. She attempted suicide a few years back, went through the transition process, and experienced a lot of bullying throughout her school years. Her mom thinks Amanda needs a fresh start, so Amanda moves in with her dad (who has lived in a small town ever since Amanda's parents got divorced) for her senior year. Amanda keeps her secret to herself at the beginning of her stay, wanting to just live a normal teenage life. She quickly makes friends with a group of girls and she meets a boy she really likes. All this excitement makes Amanda feel good about her move, but she knows she'll need to tell her new social circle about her past eventually.
This book inspires me to be more honest and accepting of others. There is a scene in the story where Amanda's dad calls her brave and she explains that she doesn't think she's brave; she just thinks she's herself. There are so many people out there who just want to live life as their authentic selves, Amanda's story will hopefully bring hope to others. I was deeply moved by this story and I think it will have a great impact.
Review by Cathy Liebenau