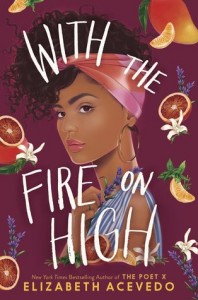 With the Fire on High by Elizabeth Acevedo (physical book, ebook and eaudiobook)
Are you looking for a book that you want to savor, yet at the same time you want to binge read? With the Fire on High by Elizabeth Acevedo fits this expectation.
With the Fire on High focuses on the struggles of being a teen mother and the challenges of being a senior in high school. Emoni's only outlet is her gift of cooking. She dreams of working in a kitchen after she graduates. Her school offers the opportunity to enroll in a cooking class that includes the possibility of a trip to Spain. However, she must overcome differences with her instructor and raise enough funds to be able to go on the class trip.
I enjoyed reading With the Fire on High, which was like reading a diary. Emoni's voice has an honest and warm tone that, as a reader, allows you to empathize with the character. Emotions in this book range from anger to sadness to happiness; it covers all of what it means to be human.
The book is divided into three parts. At the beginning of each part is Emoni's recipe that serves the purpose of soothing a person's mood, such as missing someone you love.
If you're looking for a book with a depth that will satisfy your reading appetite, then I would highly recommend this book.
Bon Appetit!
Review by Kendra Ellison, Lead Circulation Librarian and YA Consultant