We have added seven new Literacy Kits to our collection for checkout.  These kits have long been one of our most popular items, and so we have expanded the type that we are offering.  Our new kits feature a variety of topics for learning and playing at home:
Cure It! Doctor Visit
Discovering the Body
Music Rhythm
Phonetic Awareness: Beginning Sounds
Phonetic Awareness: Ending Sounds
Real Bugs Discovery
Science Activities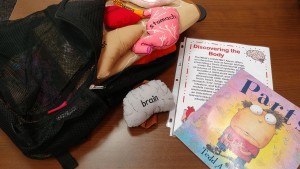 A child's home is their first classroom, and their parents and caregivers are their first teachers. Adults who read to their children every day and talk about whey they are reading together promote a joy of reading and help build strong literacy skills.  Each kit is designed to enhance young children's early literacy development by providing parents and other caregivers with an assortment of books, songs, and activities to do with their children.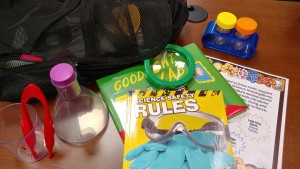 The take-home kits are visual and interactive, so they quickly grab young children's attention and keep them engaged with learning. However, all early learners are best served when a parent, caregiver, or other "teacher" is actively involved in reading the books, singing the songs, and playing with the toys and games. All of our learning kits provide an opportunity for directed learning and open exploratory play.
The new kits include a sheet guide for parents and caregivers, highlighting the learning styles and skill development of each kit.  This will help you guide your child through fun, at-home learning.