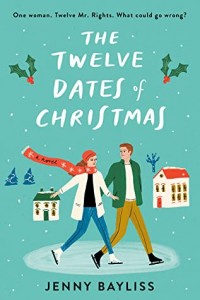 The Twelve Dates of Christmas by Jenny Bayliss
Kate Turner has moved back home to the little town of Blexford, England, where she finds contentment in her designing career and baking for the local Pear Tree cafe. But her life begins to change drastically when her best friend convinces her to sign up for a holiday dating event: twelves dates with twelve different men to help her find love for the holidays. But as the drama and hilarity of the dates begin, Kate realizes that she might find love much closer to home.
Light-hearted and humorous, The Twelve Dates of Christmas by Jenny Bayliss was the perfect romantic-comedy to curl up with this holiday season. Unlike many Christmas books, it shied away from overly-dramatic angst and sentimentalism while still remaining heartfelt and sincere at its core. Is it predictable? Yes, but in the best way. The reader immediately guesses who Kate will end her story with, but the fun of the book is watching how it all comes about.
For anyone looking for an entertaining book to read this season, look no further than The Twelve Dates of Christmas. It is sure to make you laugh and smile all the way through.
Review by Jackie, Circulation Librarian