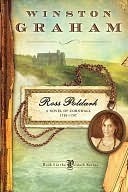 Ross Poldark by Winston Graham
I first heard of the Poldark series after watching BBC's Poldark starring Aiden Turner. Curious, I picked up the first novel and discovered that it exceeded every expectation I had. It is the story of Ross Poldark—a wounded British officer returning home after three years of fighting in the American Revolutionary War. But life takes a drastic turn when he discovers that his father is dead and the girl of his dreams is engaged to his cousin.  Grieving and angry, Ross turns his attention to his own derelict estate and the declining mining economy of Cornwall as he acquires a new resolve to help the suffering farmers and miners around him.
Winston Graham's descriptions of the Cornish landscape and inhabitants were so gripping that I was immediately captivated by the story.  I very much felt that I understood his characters and the motivations behind their actions based on Graham's portrayal of their way of life. Characters have a breath of realism, as they are neither entirely good—nor entirely depraved —and each one struggles with his or her inner conscience daily. It was refreshing to step away from the stock characters so often seen in books today.
While the plot keeps a steady pace, it does take its time to develop and shape the story. This book isn't for readers who instantly desire action or romance; rather, it is for readers who appreciate immersion into a way of life and a story that naturally evolves around its characters.  Furthermore, the story can become depressing at times as certain character's lives take blow after blow from the harsh society around them. But watching as they stumble back and doggedly fight on is both inspiring and heartening.
Ross Poldark was a wonderful read, if at times a bit slow, and I would readily recommend it as a fantastic historical novel.
 Review by Andover Public Library Staff