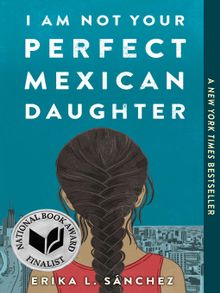 I Am Not Your Perfect Mexican Daughter by Erika L. Sanchez Review
I Am Not Your Perfect Mexican Daughter covered tough subjects with familiarity and care. I continue to be impressed by the content of YA books in recent years; this novel did not shy away from issues like mental health, immigration, familial struggles, and identity. The YA genre reflects a generation of young people who really care about the world around them and it has been exciting to read books that convey such a strong message.
This novel begins with a funeral for the older sister (Olga) of the main character (Julia). Olga was hit by a semi-truck when she was only twenty-two. Julia's impression of her sister was that she cared a lot about her family and was really respectful. After looking through Olga's belongings, Julia begins to piece together a much deeper story. Amidst her family's grief, Julia is finishing her last two years of high school and dreams of becoming a writer far from her home. Julia lives in a poor, Chicago neighborhood where she is reminded on a daily basis why she wants to leave. She wishes to escape the roaches that inhabit her apartment, the strained relationship she has with her mother, and the feeling of being trapped by her circumstances. Julia gets a glimpse of the outside world when she cleans houses with her mom, goes on field trips outside the city, and when she meets a love interest on the other side of town. Julia struggles with not only her inner demons, but also the choices her loved ones have made. There is an overarching theme of secrecy in many of Julia's relationships. Erika L Sanchez does an effective job of showing the many reasons why someone might keep the truth from the people they love. This book is filled with complexity and layers.
At first, I was preoccupied with the mystery of Olga's hidden life, but it soon became clear that this novel had way more to offer than just a mystery. It covered difficult relationships between parents and children, the frustration that comes with being an adolescent and wishing to understand adult choices, and the desire to escape childhood. I enjoyed seeing Julia grow and become more than just a teenager who likes to speak their mind (not that there's anything wrong with that). The pain and heaviness of Julia's life was sometimes difficult to read about, but this story begged to be heard. As soon as I gave into its complexities, I was immersed in a story much different than my own. I want to read more original stories like this one.
by Cathy Liebenau