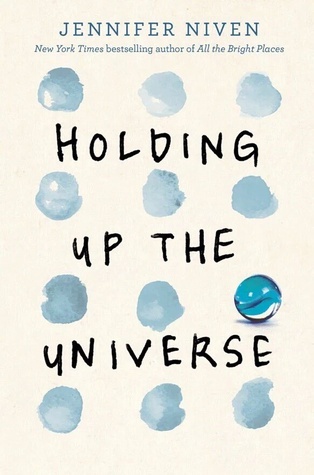 Holding Up the Universe by Jennifer Niven
For fans of Julie Murphy's Dumplin' comes this young adult novel about two sixteen year olds conquering their external and internal demons…
Holding Up the Universe by Jennifer Niven is a book told from the two main characters' perspectives (Jack and Libby). Jack and Libby are high school juniors who attend Martin Van Buren High School in Amos, Indiana. Both characters have personal struggles that accompany them throughout their daily lives.
Jack has Prosopagnosia, a neurological disorder where people cannot recognize other people's faces, even those of close loved ones. Jack has not confessed his condition to anyone until he meets Libby their junior year of high school. In addition to this, Jack is very angry with his dad's poor choices and how they affect his family.
Libby is returning to school for the first time since fifth grade. She stopped attending after being bullied about her weight. Then her mother passed away suddenly. Libby gained a significant amount of weight following her mother's death which ultimately resulted in her having to be cut out of her home and becoming an unwanted viral story. Through therapy, a strict meal plan, the help of various professionals, and encouragement from her father she makes a lot of strides and feels ready to return to school her junior year.
Libby dreams of joining the school's dance team, the Damsels, since she loves to dance. Jack wants to fit in with his peers, but in his free time he creates things. Throughout the book Jack is working on a robot for his youngest brother, Dusty. Early on, Libby and Jack are brought together by an unfortunate encounter. They quickly learn new things about each other and begin to develop feelings. Will their relationship last? Will Jack come to terms with his disorder and tell others about it? Will Libby's dancing moves wow the Damsels? You'll have to read to find out!
Review by Cathy Liebenau