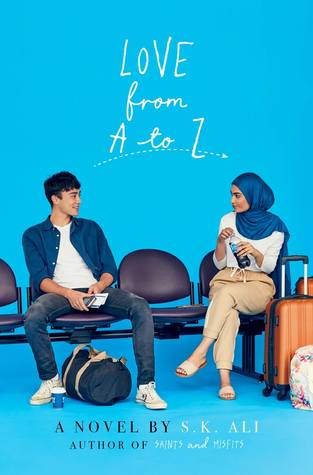 Zayneb Malik, the only Muslim in her class is angry. And for good reason, Zayneb's teacher won't stop reminding her how "bad" Muslims are. After confronting her teacher, eighteen-year-old proudly Muslim teen, Zayneb faces suspension. Her parents send her off to Doha to rest and hopefully push away what remains of her anger and frustration. On her flight to Doha, Zayneb meets Adam. Adam notices her bright blue hijab as well as her love for the marvels and oddities of the world like him. Both hiding away their secrets in a journal of Marvels and Oddities where they piece together the world through pages of their unfiltered feelings. As they lock away their real thoughts in their journals, Zayneb trying to take grasp of her anger and passion. While Adam struggles to hide the truth of his diagnosis, multiple sclerosis – the same disease that took his mother's life and is grappling with the reluctance to tell his grieving father and sister.
Like fate their paths cross time and time again. Adam is the calm to Zayneb's storm and as soon as they meet another marvel and oddity begins to occur. Zayneb is drawn to Adam and as they grow closer, she begins to see the pain he struggles to hide and helps him to uncover the truth. Adam sees passion in Zayneb unlike any other person as she storms through and fights other's racism, Islamophobia, and cultural appropriation.
Love from A to Z is a young-adult contemporary romance that is powerfully moving and provides you with insight into the harsh reality of a Muslim teen. For fans of Sandhya Menon's When Dimple Met Rishi and Nadine Jolie Courtney's All-American Muslim Girl. This book is unapologetically Muslim as S.K. Ali offers a voice for those who need one.
by Sydney Brown