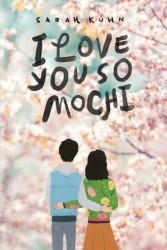 I Love You So Mochi by Sarah Kuhn
I Love You So Mochi by Sarah Kuhn is an underrated coming-of-age young adult book that has a hint of a sweet romantic comedy. I'll admit seeing the word "mochi" in the title caught my interest because it is one of my favorite desserts to have. Who can turn down a book title that mentions one of your favorite things!
Kimi Nakamura loves fashion so much that she creates original designs for friends and for herself but her mother disapproves of her love for fashion. Kimi's mother expects her to become a well-known painter. Kimi does not feel the same way about painting as her mother does. Her mother questions what Kimi wants to do with her future? A question that Kimi could not answer herself.
A letter arrives unexpectedly from her estranged grandparents who live in Kyoto, Japan. They invite Kimi to visit them for spring break. She decides to embrace the opportunity to escape the pressure she faces from her mom. When she arrives in Kyoto for the first time she experiences different parts of Japan's culture that is both familiar and unfamiliar to her. As she absorbs the beauty and joy of this city, she meets Akira. Akira is an aspiring med student who is helping his uncle to promote his business by being a mochi mascot. Little did they know that both of them would inspire each other.
This trip for Kimi turns into so much more than an escape. She begins to discover more about herself through her mom's past and what her mom left behind in Japan. Everything that she discovers in Kyoto, meeting Akira and spending time with her grandparents. She will soon understand what lies within her heart.
I recommend this book to anyone who likes reading a romantic comedy or is a fan of self-discovery. It is a kind of book that could be finished within a day. The pace does move quickly. However, I took my time reading this book because I wanted to enjoy every minute.
Enjoy these read-alikes:
Love from A to Z by S.K. Ali
Dumplin' by Julie Murphy
The Way You Make Me Feel by Maurene Goo
American Panda by Gloria Chao
This Time Will Be Different by Misa Sugiura
The Astonishing Color of After by Emily X.R. Pan
Review by Kendra Ellison, Lead Circulation Librarian and Young Adult Consultant