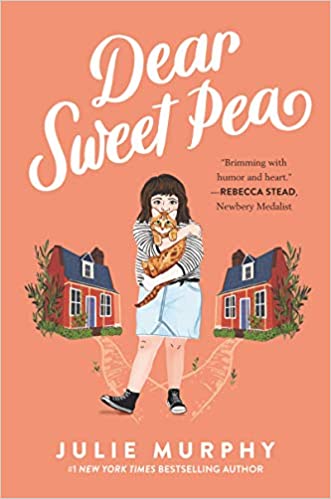 Dear Sweat Pea by Julie Murphy
Dear Sweet Pea is a delightful middle-grade novel written by Julie Murphy (of Dumplin' fame). The book is about a girl named Sweet Pea (her real name is Patricia, but everyone calls her Sweet Pea) who is in the final weeks of seventh grade. She lives in the small town of Valentine, Texas. She's an only child, but she has a cat named Cheese. Her parents recently divorced, but they want it to be a smooth transition so her dad moves two houses down to a similar house. Sweet Pea's neighbor in between her two homes is Miss Flora Mae who is Valentine's resident advice columnist for their local paper. Sweet Pea's current best friend is named Oscar and they love watching America's Most Haunted and having sleepovers every Friday night. Sweet Pea used to be best friends with her classmate, Kiera, but ever since fourth grade when Kiera found new popular friends they drifted apart.
In the novel, Sweet Pea is given a secret task by Miss Flora Mae to watch her plants and mail her the letters she receives for the advice column. Sweet Pea may sneak a peek at a few and attempt to write her own advice. Will Kiera and Sweet Pea reignite their friendship? Will her parents' divorce ever get easier to deal with? Dive right in to find out.
I recommend this book for ages 8 and up. There are so many great themes throughout the story- acceptance, dealing with divorce, and surviving middle school. This is an incredibly relatable, touching, and funny story of a girl trying to find her place in this world. You are in for a real treat!
By Cathy Liebenau