Lunar New Year starts January 22nd. For many East and Southeast Asian cultures and communities, this day will mark the start of a new year, the Year of the Water Rabbit. Whether you celebrate the holiday yourself, or want to learn more about it, here are a few children's books that take place during Lunar New Year.
Goldy Luck and the Three Pandas by Natasha Yim
How to Catch a Dragon by Adam Wallace
The How to Catch kids are off again, this time trying to catch a dragon as they chase him through Chinese New Year celebrations! Set in China during the Spring Festival, otherwise known as Chinese New Year, the wily dragon will have to avoid trap after trap as the kids run through paper lanterns, red envelopes, fireworks, and more! Bonus Mandarin translation included in the back!
Dragons are a clever bunch,
They're difficult to catch.
You'll have to set the ultimate trap–
But have you met your match?
The Nian Monster by Andrea Wang
Friends are Friends Forever by Dane Liu
A picture book based on the author's own immigration story, the infinite impact of friendship, and passing on love and kindness around the world.
On a snowy Chinese New Year's Eve in Northeastern China, it's Dandan's last night with Yueyue. Tomorrow, she moves to America. The two best friends have a favorite wintertime tradition: crafting paper-cut snowflakes, freezing them outside, and hanging them as ornaments.
As they say goodbye, Yueyue presses red paper and a spool of thread into Dandan's hands so that she can carry on their tradition. But in her new home, Dandan has no one to enjoy the gift with—until a friend comes along.
Ruby's Chinese New Year by Vickie Lee
In this picture book celebrating Chinese New Year, animals from the Chinese zodiac help a little girl deliver a gift to her grandmother.
Ruby has a special card to give to her grandmother for Chinese New Year. But who will help her get to grandmother's house to deliver it? Will it be clever Rat, strong Ox, or cautious Rabbit? Ruby meets each of the twelve zodiac animals on her journey. This picture book includes back matter with a focus on the animals of the Chinese zodiac.
Chinese New Year by Carrie Gleason
The Dragon Warrior by Katie Zhao
As a member of the Jade Society, twelve-year-old Faryn Liu dreams of honoring her family and the gods by becoming a warrior. But the Society has shunned Faryn and her brother Alex ever since their father disappeared years ago, forcing them to train in secret.
Then, during an errand into San Francisco, Faryn stumbles into a battle with a demon–and helps defeat it. She just might be the fabled Heaven Breaker, a powerful warrior meant to work for the all-mighty deity, the Jade Emperor, by commanding an army of dragons to defeat the demons. That is, if she can prove her worth and find the island of the immortals before the Lunar New Year.
With Alex and other unlikely allies at her side, Faryn sets off on a daring quest across Chinatowns. But becoming the Heaven Breaker will require more sacrifices than she first realized . . . What will Faryn be willing to give up to claim her destiny?
Inspired by Chinese mythology, this richly woven contemporary middle-grade fantasy, full of humor, magic, and heart, will appeal to readers who love Roshani Chokshi and Sayantani DasGupta.
The Year of the Dog by Grace Lin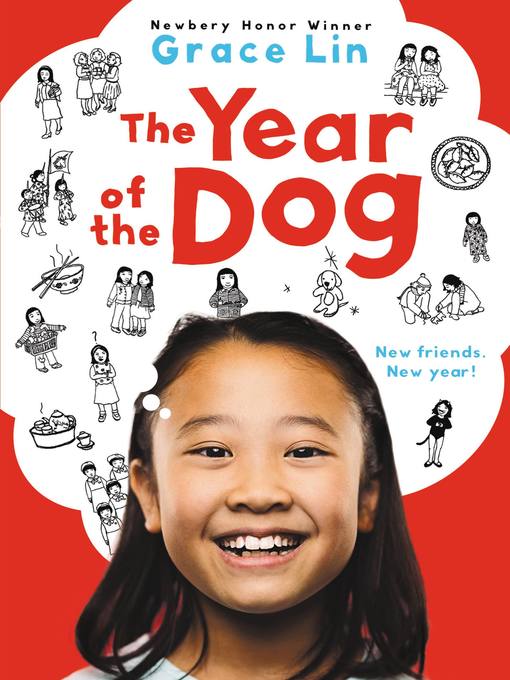 When Pacy's mom tells her that this is a good year for friends, family, and "finding herself," Pacy begins searching right away. As the year goes on, she struggles to find her talent, deals with disappointment, makes a new best friend, and discovers just why the Year of the Dog is a lucky one for her after all.
This funny and profound book is a wonderful debut novel by award-winning and bestselling author and illustrator Grace Lin, and young readers will be sure to love and treasure it for years to come.