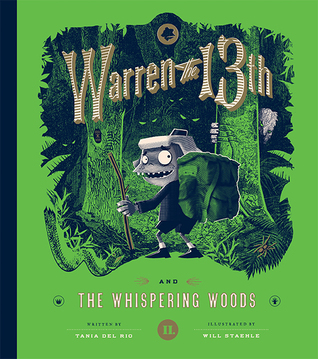 Warren the 13th and the Whispering Woods by Tania del Rio, Illustrations by Will Staehle
What begins as a "Sleeping Beauty" tale transforms into an enchanting fantasy. Warren the 13th is not your average twelve-year-old; he is a caring, responsible, and honest orphan. As the naive groundskeeper, bellhop, and manager of the family hotel, he guides the staff as they tend the guests in his cruising hotel, "where every stay is a go!" Indeed, these traveling hotel guests encounter fanciful settings ranging from the Malwoods captivating forest to raging rivers.
Slippery Sid operates a Sundry Shoppe with magical potions, special oils, notions, and assorted products. This old-fashioned haberdashery is complete as a men's outfitters and tailor; the shopkeeper also serves as a dentist. Read how the elusive Sid becomes Warren's imposter and calls himself Warrin.
Ordinary animals with magnificent alterations mesmerize readers in grades four through ten. Those who appreciate Tim Burton's artistic interpretations and stories will enjoy this book. More than a comic book, the literary elements engage the reader with alliteration, simile, metaphor, and onomatopoeia with clever-sounding words and expressions. The descriptive scenes of formidable quicksand, sticky sap, venomous snakes, and supernatural forests leave the reader bewildered and astonished. Stylish fonts and imaginative shading enhance unique drawings.
Learn how Warren faces the obstacles Warrin creates. After continued failed attempts to repair the hotel and redirect the course, can Warren transform the walking hotel into a cruise ship and save the guests and employees? Will Mr. Friggs' experiences in reading and tutoring aid the passengers? Will the evil tattooed witches plague the course? Will Petula, the perfumier in training, portend the future? Will Warren's fondness for and knowledge of Jacques Rustybooks piratology properly guide him?
Although the sinister characters in this fable may startle a young reader, the persistence of Warren provide hope that good will prevail over evil. The book is dark without causing nightmares and comical without being preposterous. Read Warren the 13th, solve the riddles, and appreciate the decorative, gothic illustrations. The book is a sequel; nonetheless, books in this series do not need to be read chronologically.
Also check out the first book in the series: Warren the 13th and the All-Seeing Eye.
Guest review by Carmaine Ternes: Kansas Librarian, Researcher, Writer, and Presenter