Goodreads is the world's largest website for readers and book recommendations. The Andover Public Library has a Goodreads group where you can discuss favorite books and find a new favorite by looking through our fun bookshelf categories.
By following the directions below, you can connect your Goodreads account to the Andover Public Library's catalog and easily see if we have a book and place it on hold.
1.  Click your profile button at the top right-hand side of your Goodreads page, at the far right of the search bar. This button either has a small image of a person reading a book or your profile picture.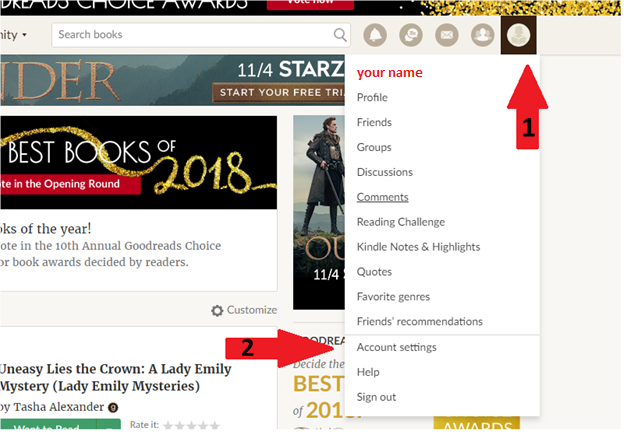 2. Next, click on the Account Settings option.
3. Select Book Links at the top of the page.

4. Click Add a New Link located on the top right-hand side of the page, above the "Popular Links" section.
5. Type "Andover Public Library" into the top box titled Link Name.

6. Copy and paste this link into the BOTTOM box titled Title Search URL:
http://catalog.andoverlibrary.org/polaris/search/searchresults.aspx?ctx=1.1033.0.0.3&type=Keyword&term=#TITLE#
7. Click the Create Book Link button at the bottom of the page.
8. Finally, check any book the library owns on a Goodreads book page (ex: Suitors and Sabotage by Cindy Anstey).

You will see a button titled Andover Public Library under the section called Get a Copy. This button will link you to the same book on our library website so you can instantly place a hold!
Happy reading!