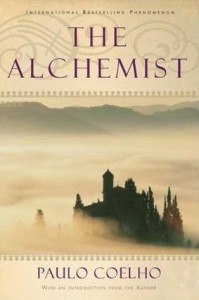 Paulo Coelho's novel, The Alchemist, is a story with the ability to reach across generations and touch the hearts of all who ponder its lessons. We are transported hundreds of years ago and join Santiago, a shepherd boy, as he takes his journey from the pastures of Spain to the pyramids of Egypt in search of his "Personal Legend." The story begins as we learn of the boy's desire to travel to Andalusia to sell a merchant some wool, although impressing the merchant's beautiful daughter is his ultimate goal. On his way, he meets a gypsy and asks her to interpret his recurring dream about treasure buried near the Egyptian pyramids. This is what gets the boy started on his journey to Egypt and fulfilling his "Personal Legend." Along the way, we are introduced to many significant characters: a wise King named Melchizedek, a generous crystal merchant, an Englishman on a quest of his own, a helpful camel driver, a beautiful girl of the desert, and most importantly, the alchemist. Each plays a crucial role in Santiago's life, as they teach him about himself and the mysteries of the world.
When you want something, all the universe conspires in helping you to achieve it.
Throughout his journey, the shepherd boy learns how to listen to his heart and realizes that his life has come full circle. There are numerous unforgettable quotes and lessons throughout the book, and each character has something wonderful and relevant to teach. The Alchemist invites the reader to look into their heart as they follow Santiago's journey to listen to his.
I greatly enjoyed this inspiring book! It is no surprise it's considered one of the ten best books of the twentieth century. The simple prose helps the reader understand complex issues in an engaging, uplifting way. This is a keeper that begs to be read more than once. In the Foreword, Coelho puts it beautifully when he states, "The story of one person is the story of everyone, and one man's quest is the quest of all humanity, which is why I believe The Alchemist continues all these years later to resonate with people from different cultures all around the world, touching them emotionally and spiritually, equally, without prejudice." Santiago's journey, although on the surface very different than ours, is about following your dreams and listening to your heart, and that is something we can all connect with.
by Kathy Pyles, Inter-Library Loan Supervisor