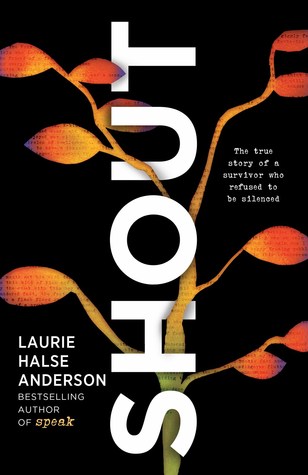 Shout by Laurie Halse Anderson
Filled with imagery and metaphors, Shout by Laurie Halse Anderson, addressed difficult situations including trauma, rape, cancer, addiction, and abject poverty. The author's pain management comprised moving, running, art, and reading. Through powerful and memorable words, Laurie Halse Anderson tributes a gym teacher, an author, and a journalism professor for her curiosity. When a friend introduced her to a Carnegie library, "Lovebrarians" provided memorable treasures and angels without rivalry, criticism, or torture.
This collection of poetry provides escape recipes, social mountain opportunities, and "Sound of Music" harmony while encountering directionally challenging situations, war themes, sour relationships, and unfortunate vulnerabilities. Defenseless against figurative war zones and fighting battles just to breathe were typical experiences described while facing silence and sadness. "Dreaming was a tradition" to ward against a "lifetime sentence of rape" and other societal dysfunctions. Desperate to feel accepted without censorship or condemnation, Anderson presents desperate teenagers who ache to be included, deny compliance, and refuse to be silent despite emotional scars.
Riding a bicycle provided more than an equestrian simile, a connection to the real world, an escape mechanism, a sense of independence, and free transportation. Fantasies of being Madonna, Princess Diana Spencer, and Cinderella blossomed hopes of liberation and happiness.
When Laurie Halse Anderson was welcomed by Walter Dean Myers into the world of books for kids, she accepted a responsibility to her readers. Children with scars, should not "disappear into the rearview mirror." These authors celebrated "writing for the kids the world doesn't want to see."
If you appreciate reading about people who face adversity, are drowning in broken dreams, and are "hungry in the sea of despair," you will benefit from Shout. Transform your anger, crime, fear, or hatred into a "Mending Wall" that illuminates candles of hope and warms courage. If you are searching for companion reading, Heartland: A Memoir of Working Hard and Being Broke in the Richest Country on Earth by Sarah Smarsh parallels "cyclical poverty and the country's changing economic policies that solidified her family's place among the working poor."
Anderson's unflinching vindication is a "denouncement of our society's failures" prior to the #metoo and #timesup movements. Shout the truth!
Shout is available in hardcover and audiobook. 
Guest review by Carmaine Ternes: Kansas Librarian, Researcher, Writer, and Presenter