It's Frankenweek! This year marks the 200th anniversary of Mary Shelley's Frankenstein, or, The Modern Prometheus.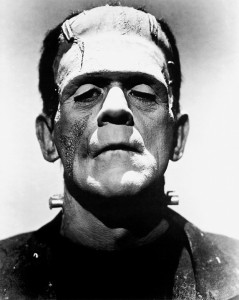 Boris Karloff, as Frankenstein's monster
Frankenstein was born on a dark and stormy night: the product of a ghost writing contest in June 1816 when Mary Shelley was 18 years old. In the introduction to the revised 1831 edition, Mary Shelley says the idea for Frankenstein came to her in a dream:
---
I saw — with shut eyes, but acute mental vision, — I saw the pale student of unhallowed arts kneeling beside the thing he had put together. I saw the hideous phantasm of a man stretched out, and then, on the working of some powerful engine, show signs of life and stir with an uneasy half-vital motion.
---
She initially published the first version anonymously 1818, which she titled Frankenstein; or, the Modern Prometheus. In 1823, her name appeared on the second edition and in 1831 she republished Frankenstein, changing some passages. This is the version that is best known today.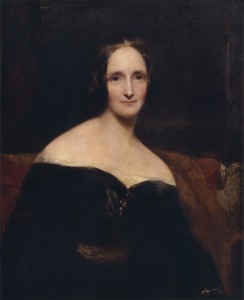 Richard Rothwell's portrait of Mary Shelley, 1840
And, thus, 18-year-old Mary Shelley became the mother of the horror genre as we know it. So well-loved is Shelley's Frankenstein that many adaptations, revisions, and restagings exist for readers (and viewers!) today. We have a wide variety of Frankenstein-esque options for the whole family at the library. From DVDs (Young Frankenstein, Hotel Transylvania) to non-fiction books (Making the Monster; Mary Shelley: The Strange, True Tale of Frankenstein) to children's books (Frankenfrog, Frankenstein Makes a Sandwich) to fiction (Pride and Prometheus), and even Graphic Novels (Frankenstein: the Graphic Novel)! Stop by the library this week to see our monsterously good display of Frankenstein and Franken-like books! We will have the display up through Halloween!
Frankenreads is an NEH-funded initiative of the Keats-Shelley Association of America and partners.