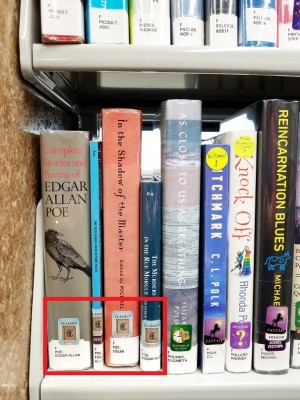 Below are a few examples of the books in our collection with "classics" stickers.
Little Men by Louisa May Alcott
I Capture the Castle by Dodie Smith (YA)
The Handmaid's Tale by Margaret Atwood
Northanger Abbey, Emma, Pride and Prejudice, Persuasion, Sense and Sensibility, and Mansfield Park by Jane Austen
The Time Machine and the Invisible Man by H.G. Wells
Don Quixote by Miguel de Cervantes Saavedra
The Three Musketeers by Alexandre Dumas (also available in JF)
The Catcher in the Rye by J.D. Salinger
The Phantom of the Opera by Gaston Leroux
Stories by Edgar Allan Poe (also available in Adult, YA, and Juvenile graphic novels)
Jane Eyre by Charlotte Bronte (YA)
Cannery Row, East of Eden, The Grapes of Wrath, and Of Mice and Men by John Steinbeck
Frankenstein, or, The modern Prometheus by Mary Shelley
Oliver Twist, Great Expectations, A Christmas Carol, A Tale of Two Cities, and The old curiosity shop by Charles Dickens (available in Adult, JF, YA, and audiobook)
Happy Reading!