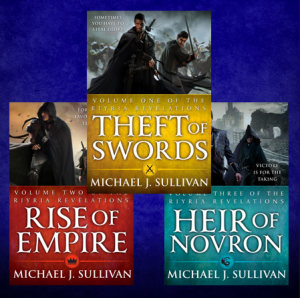 The Riyria Revelations by Michael J. Sullivan
While I enjoy a good fantasy novel, I am often leery to read one without a specific recommendation due to the prolific violence, language, and sexual content many contain within. I first became aware of Michael J. Sullivan's Riyria Revelations series when I noticed it constantly mentioned on various top literary lists. Next, I read an interview discussing the origins of his series and his desire to write books all ages could enjoy without the deterrent of content restrictions. Intrigued, I began reading the first book and quickly ordered the rest before I'd even gotten halfway through.
Originally self-published as six books, Orbit picked up the series and republished them as three separate volumes: Theft of Swords, Rise of Empire, and Heir of Novron. They follow the adventures of two thieves who unwillingly become entangled in political conspiracies when they are framed for the murder of the king. Each book consecutively builds upon the series as the plots begin interweaving and developing in twists and turns. And while there is magic, it is not the center of the story as is seen in many fantasy novels. It adds to the story rather than defines it.
The Riyria Revelations are written with the perfect balance between humor and action. They are perfect for any reader who loves fantasy or simply a fun, action-filled plot.  For other readers who wish to branch out of their normal reading interests and explore the fantasy genre, this is an excellent place to start.
For more information on the author and books visit: http://riyria.blogspot.com/p/about.html
Review by Andover Public Library Staff