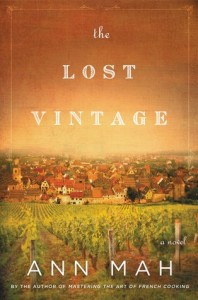 The Lost Vintage by Ann Mah (ebook and physical book)
I enjoy reading about France–but France as the setting for a contemporary mystery? This immediately piqued my interest. I will admit I had a hard time putting this book down. The storyline had me completely hooked! Ann Mah describes the French countryside in such a way that you are able to experience the natural beauty of the vineyards. Kate, the main character, is from San Francisco and is a sommelier. Her life is consumed with prepping for the prestigious Master of Wine test. On the verge of failing, she has one last chance to pass the test, and Kate decides to spend some time working at her family's ancestral vineyard in France, where she is reunited with Jean-Luc, her long lost first love.
Mah could have easily written a very compelling and enjoyable romance, but The Lost Vintage evolves into so much more. While cleaning out the cellar, Kate discovers a secret room hidden behind an armoire, which contains a trunk that holds a journal belonging to her Great Aunt. While exploring the secret room, Kate also finds a collection of rare wine with six of the bottles missing and sets out to discover why they are gone.
The Lost Vintage plays out in two different storylines–one set in the present-day featuring Kate and another set in World War II during the German occupation. Typically, storylines that bounce back and forth from the past to the present tend to lose me as a reader. Mah avoids any confusion by using a journal to allow the story to tell stories of the family's past. The Lost Vintage easily moves from the past to the present seamlessly and the storyline makes perfect sense.
I found the World War II plot most intriguing. The story of Kate's ancestors living through the occupation was so vivid. Mah describes the horrible atrocities that her family suffered during the war with an unvarnished reality. The characters' suffering and strength to survive made the characters more real to me. However, some readers may feel that the descriptions of the horrors suffered by the French, especially by women, are too graphic.
Mah intertwines a romantic storyline with a tragic, historical plot that kept me interested in these characters. I feel as though she found the perfect balance. This is a story of family secrets, lost loves, and reconnecting with your family's history. I read this book in two nights. If you love history, mystery, love stories, and wine, you will enjoy this book.
By Angela Wilson