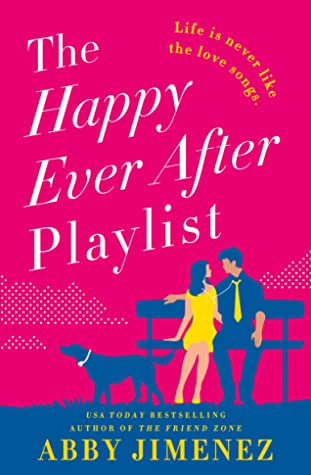 Two years after the death of her fiance, Sloan Monroe is still struggling to regain a sense of normalcy amidst her grief. The basics of daily life are neglected and friendships are severed. It isn't until she meets the charming Jason Tucker that she begins to understand the mess she has allowed her life to become. Slowly, Jason helps her move beyond her past and find friendship and love again. But simply moving on isn't as easy as it appears.
In a romantic genre where writing is often propped up by hackneyed and shallow storylines, The Happy Ever After Playlist by Abby Jimenez stands apart. In addition to fully crafted characters, her story is a testament to the pain of grief and the struggle to heal. But most importantly, it maintains humor and realistic responses to change without being bogged down in emotional angst. It is the perfect balance between comedy, drama, and romance. Does the book have it's occasional cliche moments? Of course. But then, what romance doesn't?
The Happy Ever After Playlist is highly recommended and can be read either as a standalone or as a sequel companion to Jimenez's The Friend Zone.
by Jackie Wilkerson