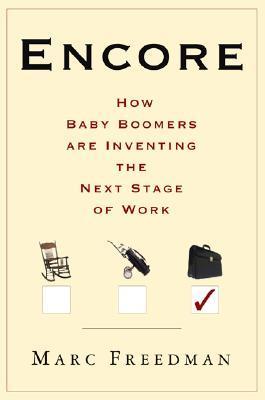 Encore: Finding Work that Matters in the Second Half of Life by Marc Freedman
The progression of middle-aged Americans into retirement creates a significant social drift transforming the workforce. Encore: Finding Work that Matters in the Second Half of Life by Marc Freedman provides a meaningful guide with concrete steps to find fulfillment beyond midlife careers.
Encore career pioneers provide amazing testimonials and magnificent strategies revitalizing a redistribution of income and value. Freedman presents a "freedom to work" ethic encouraging seniors to refuse to fade away and deem them with a responsibility to enhance their "Golden Years" beyond a traditional scope. One example is Win Craft's phrase "chasing a dream, not a dollar," by contributing to humanity and creating a more meaningful world.
Learn how to balance the responsibilities and visions of work by incorporating a mind-shift welcoming new terms and occupational trends. By utilizing personal talents, seniors can positively influence and redesign the world of work. Legendary labor leader, Walter Reuther's belief, "we are too old to work and too young to die," focused on the corporate pension as an incentive to allow younger employees to enter the workforce. Established and resourceful "baby boomers are inventing a new phase of work," infusing past with present and opening doors to the future.
In an era of downsizing, layoffs, personal injury, illness, or early retirement, Americans are encouraged to retool, mentor, and make a choice to become a "pilgrim embarking on a new adventure." When trailblazer Bill Gates announced his retirement, he created a new trajectory by "reordering my priorities." Nascent innovative organizations offer myriad opportunities and tremendous potential to connect with new generations supporting the modern labor force.
Encore highlights the stories of career innovators "searching for a calling" to transform the nature of work in America. A University of Kansas Sociologist David Ekerdt stated, "the busy ethic" is an approach to retirement that should include more than a set of golf clubs. "Moral continuity between work and retirement" reflects the potential to support a balanced society. "Activity, recreation, and exercise are key ingredients" in addition to lifelong learning and volunteering. Alleviate the "purpose gap" of keeping busy by substituting with purposeful actions. "These pioneers are not celebrating their freedom from work, but rather their freedom to work" in form of social renewal constituting a phenomenal style of volunteering and exertion. The emerging forces of energy cited in Encore instill hope and happiness and may intrigue readers with the Purpose Prize, Experience Corps, Troops to Teachers, Hope for Generations, and a plethora of inspirational and educational resources.
After being in education for 35 years, I chose to retire. "Someone gave me a chance upon college graduation; now it is my time to offer someone else an opportunity for a job." Freedman does not promise a "fountain of youth" nor guarantees for success, he offers practical optimism founded on fundamental principles. His goal to "live interested" should appeal to readers of all ages, interests, and abilities.
Encore: Finding Work that Matters in the Second Half of Life by Marc Freedman is available for checkout.
Guest review by Carmaine Ternes: Kansas Librarian, Researcher, Writer, and Presenter