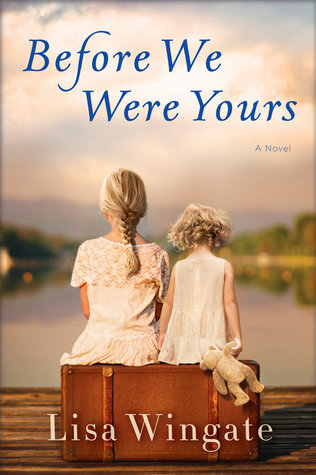 Before We Were Yours by Lisa Wingate
It's 1939, and twelve-year-old Rill Foss loves her life on the river. She and her family live on a shanty boat on the Mississippi River until late one night when her father has to rush her mother to the opposite shore during difficult childbirth. Rill is left alone to watch over her siblings, but their lives take a turn for the worse when the authorities board their boat and confiscate the children. They are taken to an orphanage in Memphis. Thus begins their journey not only to stay together but to survive.
Jump to present day, and thirty-year-old Avery Stafford loves her life as a successful lawyer and daughter of a U.S. Senator. While attending an event with her father at a nursing home, she has an encounter with one of the residents (May Crandall) who "accidentally" removes Avery's bracelet which is a family heirloom. The next day, when Avery returns to retrieve the bracelet, she sees a photograph in May's room that looks very similar to her grandmother. Thus begins her journey to uncover the family history of her grandmother, Judy Stafford.
This historical fiction story will tug on your heartstrings as you discover how horrible the conditions were for orphans at the Tennessee Children's Home Society in the 1930s and 1940s.
I'm glad the author used a dual timeline, alternating chapters with Rill's character and Avery's character; otherwise, it would have been hard to continue reading this true-life story based on this particular orphanage. Rill never gives up hope that her family will be reunited and will live on the river once again.
Lisa Wingate is one of my favorite authors, and I expected she would weave these two characters' lives together in a wonderful way. She also added plenty of suspense and a dab of romance. If you enjoy Orphan Train by Christina Kline, you'll probably enjoy this book also.
by Nancy Rose