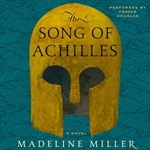 The Song of Achilles an audiobook review
By Madeline Miller
Narrated by Frazer Douglas
The Song of Achilles is written from the perspective of Patrocles, beloved companion of Achilles. This is an interesting reimagining of Homer's classic The Iliad. This is both an action adventure and a love story.
The ancient Greeks had a different outlook on sexuality and this book reflects that. So, if a same-sex relationship is not interesting or offensive to you, then do not pick up this book. If you are interested in The Iliad and other mythology, this book is worth trying.
The narration for the book is excellent. Frazer Douglas does a good job of distinguishing the various characters. At first it is weird to hear a confident and self assured adult voice for Achilles, but that is a great rendering of the character in the story. He is a half god after all.
Tom Taylor
Library Director