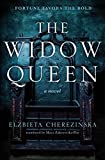 The Widow Queen by Elżbieta Cherezińska
I enjoy historic fiction set in specific eras. I love Bernard Cornwell's Saxon stories and this ties in closely to that time (late 10th Century). I also know very little about Polish history and was eager to learn more. This book has a lot of interesting characters. I appreciate the different perspectives.
That said, it's a mammoth undertaking. It's a large book with a lot of characters and names in languages readers might be unfamiliar with.  But, if you like historical fiction set in this era, give it a try.
Tom Taylor
Library Director