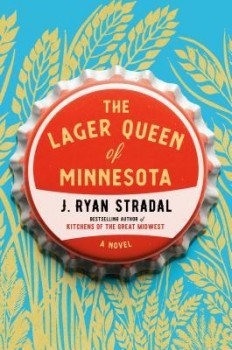 The Lager Queen of Minnesota by J. Ryan Stradal
The Lager Queen of Minnesota by J. Ryan Stradal follows multiple generations of a family in Minnesota and their struggles and successes as they work to survive. Edith and her younger sister, Helen, aren't particularly close growing up and that distance only grows after their father leaves his entire inheritance to Helen, cutting older Edith out. While Helen builds a successful brewery, Edith squeaks out a meager living baking award-winning pies at various jobs and working extra shifts at Arby's, eventually bringing her teenage granddaughter, Diana, into her home. The three women lead very different lives that all lead to the same conclusion: beer.
Lager Queen is a sweet, sometimes bitter and emotional, story brimming with strong female characters that are easy to root for. You'll learn more about brewing and the craft beer revolution than you ever expected. Stradal's down-to-earth writing really makes this book. And while he didn't craft the most complex characters you'll see in fiction, you'll find yourself cheering alongside them as they find their way.
Interested in brewing your own beers? Learn more about homebrewing here and the craft beer revolution here.
Review by Sara McEachern, APL Support Librarian