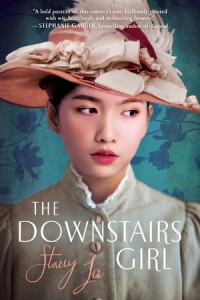 The Downstairs Girl by Stacey Lee
As an avid reader, I think it is safe to say that I think about books 24/7. One of those books was The Downstairs Girl by Stacey Lee. The cover of the book kept appearing in my mind and I knew that I had to read it.
The Downstairs Girl is a young adult historical fiction that takes place during the women's suffragist movement in Atlanta, Georgia. The story focuses on seventeen-year-old Jo Kuan who becomes a lady's maid for the daughter in the Payne household after being fired from her old job as a hat maker. As she does her duties as a lady's maid, she becomes the new advice columnist for the newspaper under the pseudonym of Miss Sweetie. However, she was not expecting her advice to become the talk of the town when she challenges society's rules about race and gender. While Jo faces her professional challenges, she has personal challenges of her own that sets her on the path of finding the identity of her parents who abandoned her long ago. Jo faces trouble when her search for her parents put her in danger when she faces the notorious criminal of Atlanta. Jo faces the decision to stand up for what's right or will she have to back down?
I enjoyed reading Stacey Lee's book. She did a wonderful job portraying a strong female character who is smart and witty. I appreciated how Miss Sweetie's advice was placed at the beginning of different chapters throughout the book. Each piece of advice written tied in with the storyline of the chapters. If you like reading historical fiction with a strong character, I would highly recommend this book. I look forward to reading her other books especially her soon-to-be-released book of spring 2021: Luck of the Titanic.
Other books by Stacey Lee
The Secret of a Heart Note
Under a Painted Sky
Outrun the Moon
If you liked this review, try these great books
Inventing Victoria by Tonya Bolden
The Hired Girl by Laura Amy Schlitz
Butterfly Yellow by Thanhha Lai
Book review by Kendra, Lead Circulation Librarian and Young Adult Consultant.