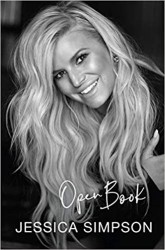 I came for the juicy details and stayed for the heartfelt reflections. Open Book by Jessica Simpson was a wonderful memoir of a woman who has overcome a lot. From childhood trauma to tumultuous relationships to struggles with alcoholism, Simpson's life has been about way more than making it in the music industry.
Simpson moved around when she was younger, because of her dad's job. She grew up in a religious home and relied immensely on her faith to get her through tough times. The death of her cousin and abuse when she was younger continues to impact her to this day. She grew up singing in the church setting but dreamed of breaking into the pop world. Her commentary on her early experiences really sets the tone for later on as she details her various relationships and opinion of herself.
By going through various "scandals" in her career and personal life, the reader gets an inside look at what really happened. From her acting jobs to her entry into the pop music industry, this behind the scenes perspective dismantles any preconceptions of Jessica Simpson from over the years. While she felt in on the joke, it was also difficult to not appear intelligent in the public eye. Simpson is very forthcoming regarding her relationships with Nick Lachey, John Mayer, Tony Romo, and Eric Johnson. By divulging her experiences, you get a front-row seat of how she has been affected by and grown from her past partners as well as her current husband.
Simpson talks about getting sober, starting her own business, and becoming a mother. She is not afraid to go into the embarrassing or hard moments of the past few years. Given the fact that she has been through her share of rough patches, Simpson remained devoted to her family, faith, and standards she set for herself beginning at a young age.
I was left feeling moved and entertained. I highly recommend this book for anyone who loves a well-written celebrity memoir, grew up in the early 2000s and loves the nostalgia, or simply wants to become immersed in the life of someone who has put herself out there. Open Book does not disappoint!
Review by Cathy Liebenau