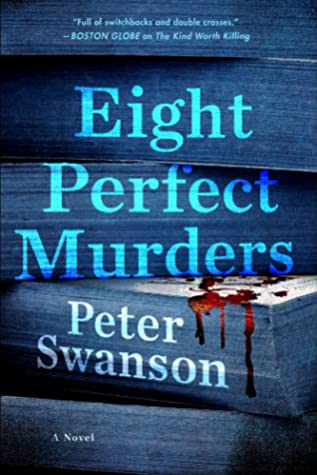 Eight Perfect Murders by Peter Swanson
For his first blog post on his bookstore's website, bookseller Malcolm Kershaw compiled a list of the eight most perfect murders in fiction. Nearly ten years later, FBI Special Agent Gwen Mulvey steps into his mystery bookstore, Old Devil's Bookstore, looking for information on a series of unsolved murders that are strikingly similar to the list of "perfect" murders he compiled all those years ago. Mal agrees to help Agent Mulvey, but the killer is out there, watching, and knows far more about Mal and what he keeps secret than the does the FBI.
Eight Perfect Murders begins with the disclaimer: "A Memoir," the first hint that all may not be what it seems.
"Books are time travel. True readers all know this. But books don't just take you back to the time in which they were written; they can take you back to different versions of yourself." — The Drowner by John D. MacDonald
Part old-fashioned mystery novel, part appreciation of popular contemporary mystery tropes, part celebration of some of the best crime and mystery novels of the genre. This is a book for those who love mysteries and appreciate the thrill of the chase and the many twists and turns that arise.
Eight Perfect Murders is a puzzle, ideal for a lazy day stuck inside. It's such a quick and exciting read, you'll devour it in one sitting.
Review by Sara McEachern, APL Support Librarian